Books
Lisa is the author of 13 books. Most are available from Amazon.com and through major book sellers. The books listed below are available directly from Lisa. Every book ordered through LisaBallardOutdoors.com is autographed. For a personalized message, please contact Lisa.
SPECIAL OFFER! There is free shipping year round for orders of six or more books. You should see no charges made for shipping when you check out. Note: Books are shipped "Media Rate" through the USPS.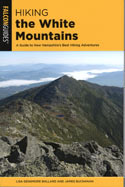 Hiking The White Mountains, 2nd Edition
Thirty-nine of finest hikes in New Hampshire, including the high points of the Appalachian Trail, Grand Monadnock and several favorites in the Connecticut River Valley, now in color!
Hikes for every ability level.
Up-to-date, detailed trail descriptions with mile-by-mile cues and a view guide for every lookout.
The best routes to alpine mountain tops, fire towers, iconic waterfalls and other backcountry points of interest.
Interesting historical and geological information for each route.
Easy-to-read trail maps.
Clear directions to each trailhead.
Loads of beautiful photos by Lisa Ballard.
---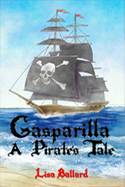 Gasparilla! A Pirate's Tale
JOSE GASPAR never intends to become a pirate, but after being falsely accused of stealing the crown jewels, it becomes his fate while trying to escape on a ship bound from Spain to Florida. After saving his best friend and freeing the crew from the ship's evil captain, he defeats the infamous Pierre LaFitte then claims the west coast of Florida as his pirate domain... until the Americans find him.
Early chapter book for grades 3-6 (ages 8-11)
50 pages
Beautifully illustrated
Learn the legend behind Tampa Bay's annual Gasparilla festival!
Available in paperback and hard cover. For an autographed copy, order below.
Also available as an e-book through Amazon.com, Barnes & Noble.com, iBooks, Audibles and wherever electronic books are sold.