Who Is Lisa Ballard?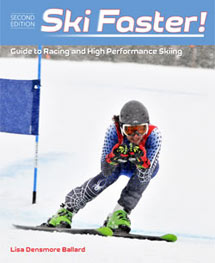 If it's outdoors, Lisa has likely filmed it, photographed it or written about it.
WRITER
A professional writer since 1991, Lisa's articles have appeared in hundreds of regional and national magazines and websites. She writes extensively about her outdoor experiences and far flung adventures as well as instructional articles and articles on gear, cooking, nature, wildlife, people and conservation. She currently blogs for Lowa and Outdoors.com. Lisa is a past-president of the Outdoor Writers Association of America. She has written 13 books including:
Hiking the Adirondacks, 3rd Edition (FalconGuides, 2023)
Hiking the Green Mountains, 2nd Edition (FalconGuides, 2022)
Hiking the White Mountains, 2nd Edition (FalconGuides, 2022)
Gasparilla, A Pirate's Tale (Richter Publishing, 2019)
Ski Faster! Guide to Racing and High Performance Skiing, 2nd Edition (Rocky Fork Media, 2016)
Best Easy Day Hikes Adirondacks, 2nd Edition (FalconGuides, 2017)
Backpacker Magazine's Predicting Weather (Globe Pequot, 2010).
Best Hikes with Dogs: New Hampshire and Vermont (The Mountaineers Books, 2005)
Ski Faster! (McGraw-Hill, 2000)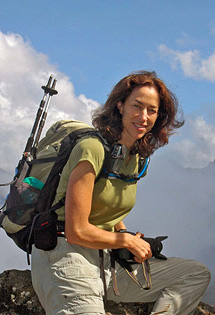 PHOTOGRAPHER
Lisa's stock photo library contains thousands of photographs from all over the world. Her award-winning images include broad vistas, historic landmarks, intriguing people, vibrant flora, fascinating fauna, and eye-catching abstracts. Recognized year after year by the Outdoor Writers Association of America as one of the top outdoor photographers in the United States, Lisa's photographs have appeared in a multitude of magazines, books and galleries, and on calendars, greeting cards, automobiles, skis, brochures, advertisements and websites... not to mention her own books.
PROFESSIONAL SKIER
Lisa Ballard, formerly Lisa Densmore, has been involved in the sport of skiing for most of her life as a competitor, coach, official, ski and ski boot designer, marketing consultant, event producer and journalist. She began ski racing at age 6 and spent her early years in the junior race program at Whiteface Mountain near Lake Placid, New York. In high school, while attending Stratton Mountain School in Vermont, she trained and competed throughout North America and Europe on the U.S. Ski Team, and then spent four years as a member of Dartmouth College's NCAA Division 1 ski team (1980 to 1983). After college, she raced on the Women's Pro Ski Racing Tour for six years (1985 to 1990), achieving a ranking of 10th in the world. ski racing camp or a women's ski clinic. You'll also find her competing on the masters circuit and covering the sport for various media outlets. To see Lisa's full skiing bio, click here.
FILM/TELEVISION PRODUCER & HOST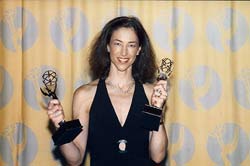 A three-time Emmy-winning host and field producer, Lisa spent 20+ years working in television and docu-style film, covering mountain and water sports, outdoor recreational activities, nature, wildlife, adventure and conservation topics. Her television programs have appeared on many networks, including CBS, NBC, PBS, ESPN, A&E, The Weather Channel, The Outdoor Channel and Outside TV. To view samples of her work, click on the links below: